I can't even imagine a foot of snow on the ground here. Let alone, FEET of snow. I've seen pictures ya know, of snow up to people's roof tops. But, it's like watching a movie or something on tv, it's not real until you experience it for yourself lol I can't... relate nor comprehend.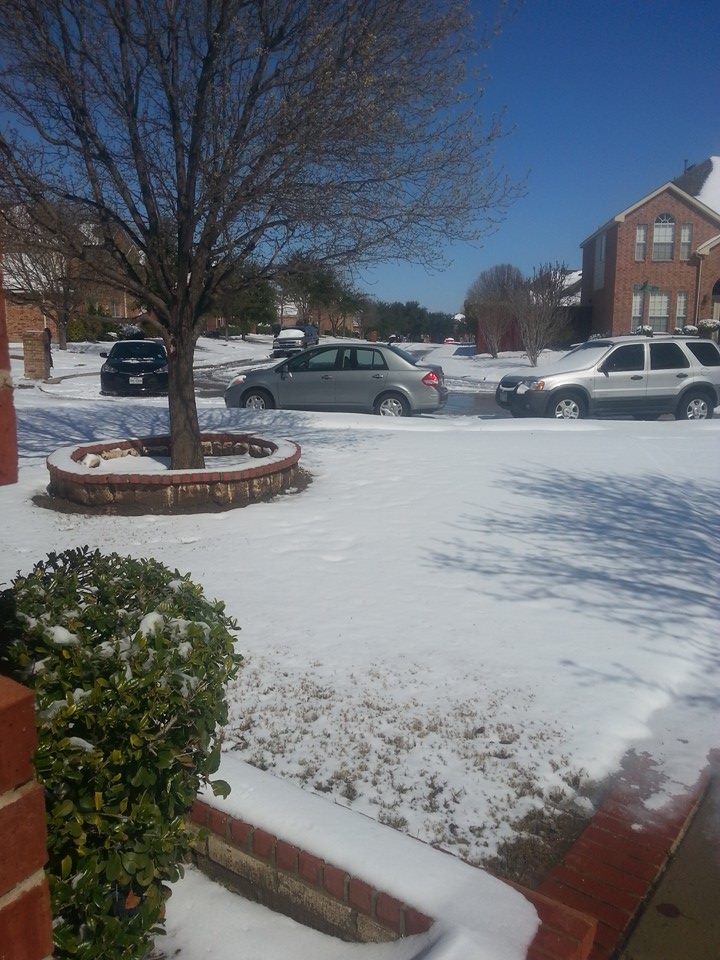 Temperatures reached 32 today at about noon. Things started melting quickly because of the sun. However, it only reached 36 so everything that is wet will refreeze tonight cause temps are dropping. Making my morning drive, an icey one. 
But today, so, all of North texas shut down, Dart Rail trains, (my hubby rides to work) weren't running cause of ice build up on rail lines. Power got knocked out in part of dallas for downed power lines (ice) again. Accidents galore. Freeways shut down. Etc etc etc. My hubby missed another day of work, and as suspected at my work the delivery truck was cancelled. I cancelled my plans for Saturday (so i can work saturday) and rescheduled them for Sunday. (i had plans to hang out with miss cortney/girl from work who no longer works there). We were just going to hang out, maybe lunch, mall, shopping. 
I still have to reschedule today's coffee plans with my dropped friend. I'm off Monday so looks like I will be busy for the next 4 days. (Friday work, Saturday work, Sunday Cortney, Monday Alisha). That's the downside of having friends when you are too "in your own bubble" to be bothered.
They always wanna hang out. 
There is this other girl named Amanda, we call her Amanda E. Her and her husband don't have children and so she always wants to hang out with me cause not many other couples our age DONT have children. That is the ONLY thing we have in common. That and her birthday is the day after mine and we are the same age.
Same with alisha. She is 9 days younger than me, but we don't have much in common either. 
Cortney though is much younger than me, I consider her my mini me. I think she is a Cancer/Rooster.
Like one day, we were at the mall (i like to take her with me to the mall)... we got out of the car and were walking across the parking lot, and we could hear some dude yellin, I don't know what he was sayin, just loud and obnoxious, sounded drunk, somewhere in the distance,  and at the EXACT same time, Cort Says: Quit yellin mother fucker, and I said: Shut The Fuck Up Asshole. WE laughed.. haha it was funny cause it was our natural reaction to some idiot yellin..... I think our brains are on the same wave length minus the fact hers isn't warped from years of extra curricular activities. ANYWAY. My point was, even though she is 21, she is my mini me. We are going to have so much fun at the beach in May.
 The sun came out here in Texas for the first time in like 11 days, almost 2 weeks I think. After things melted outside the hubby and I drove to the mall, (there were still some icy patches this afternoon at 4pm). We had Pei Wei, mmmmm, Orange Chicken was sooooo good. Didn't get to do any shopping cause I had to get my mom's food to go. after we brought it home we went up to my work. 4 times a year we get double discount, instead of 20% off, it's 40% for employees for the designated week. Today was the last day of double discount , so, I spent money at work.  
I bought a cane with a light for my mom. 
Two dog toys for her dog.
A picture of a sand dollar to hang on the wall (beachy stuff can't help myself)
Bubble bath
A head band for my hair. My hair is long I'm always trying to keep it out of my face.
Box of chocolate chip cookies (for Boyd's sweet tooth)
Finally got a jewelry tray to sit on my night stand. I always take my jewelry off at night before bed, and for 3 years ive been using a beautiful cherished ashtray that I don't want to fuck up. (i don't smoke anymore, quit in march 2013). HEY it's been two years. go me!
I bought a candle, Mandarin/Lime
And Boyd got three new shirts. He needs nice shirts to wear to church. He can't wear his hoodie every weekend. I mean, he could but, I like seeing him in something other than a hoodie. He wears a hoodie ALL THE TIME. 
The hubby then drove me to starbucks. Damn Venti White Chocolate Mocha Latte's - can't stay way from them.