Section 1 is a covert anti-terrorist organization. Not even the Pentagon knows of it's existence. Their mission is to stop the terrorists from striking before they strike. But sometimes in Section 1, sacrifices are made for the greater good. Section 1 has to answer to only one person, the head of Oversight. Both Section 1 and Oversight are parts of an even larger organization known only as Center.
Over the years many of those who have given their lives to the cause have become corrupt! Such as Petrosian, a deep cover agent who recently came to Section 1's headquarters to gain knowledge of the ways in which the Section works and serves as a anti-terrorist organization. He has a hidden agenda though, he secretly wants to learn the ways of section so he can one day take control of it by eliminating Section 1 agents one by one. He is currently blackmailing a Section 1 operative by the name of Quinn. Quinn has been secretly scouring classified database files and hiding her activity on an offline server to remain undetected. Although her activity has been well hidden, she was unable to hide it from Section 1's savvy tech Birkoff. He has discovered that a directory has been downloaded to a disc and is in unknown hands. The directory contains a list of all Section 1 operatives around the world and their locations. If this disc were to fall into the wrong hands, it could mean the end of Section 1. Birkoff alerted Operations, the head of Section 1 and Section 1 has been placed under Close Quarter Standby until the Mole inside section has been found and the disc destroyed.
Your job is to uncover the facts. Figure out who is telling the truth and who isn't. If your character has a nightly action you must send me a pm before the deadline for it to count. Here is a list of characters and what they can or can not do.
*All characters and ideas in this game are based on the cancelled tv show La Femme Nikita.
ROLES AND CHECK IN'S!!
Nikita
Falsely accused of killing a police officer, Nikita is sentenced to life in prison. Soon afterward, she is recruited into Section One when the organization fakes her suicide. Her compassion and sympathy constantly conflicts with the often ruthless orders she is given. She is especially fond of Michael and has formed a relationship with him. She has worked her way up to a Level 2 operative. Nikita has no special role or night action and is completely innocent.
Michael
bodyguard
Michael was sent to prison for being part of a radicalized movement when he was a student who planned attacks on innocents in protests. Not long after being sent to prison, he is recruited into Section One and becomes one of their most successful and respected agents, and is a level 5 operative, the highest level one can get to. He is very dedicated to Section 1 and will do anything to protect it. Each night Michael will send me a pm and tell me the name of a person inside Section 1 he would like to protect. He may not protect the same person twice in a row. If the person he is protecting in the night is attacked, nothing will happen to him or that person.
Operations
hunter

Vietnam war veteran, Lieutenant Paul Wolfe was recruited into Section One against his will just before the fall of Saigon. Operations eventually seizes control of the organization himself. He uses Section One as his own power base, gaining considerable control over dictators in many regions of the globe. Operations being stubborn and hard headed wont go down without a fight. If he is lynched or killed he will fire off one shot from his gun at any person of his choosing. Each night he will send me a pm with the name of a person he would like to shoot. His shot will only count in the event of his untimely death. If he is lynched, the name he sent to me during the night before will be the person he fires a shot at. (see special notes on select characters for more information).
Special Notes:
IF Birkoff tries to track him, he will be told he visited no one
If Madeline tries to interrogate him, she will be told her techniques failed.
Madeline
Interrogator

As the executive strategist for Section One, Madeline is Operations's closest ally and confidante. The ultimate personification of Section One's ideals, she is cold and efficient in the execution of her duties, which often involve using torture to extract information from captured terrorist subjects. A master manipulator, she knows the psyche of each Section operative inside and out, and can push the right buttons to get what she wants from each one each time. Each night she will send me a pm telling me of the person she wishes to interrogate. She can learn the identity of that person. (see special notes on select characters for more information).
Special Notes:
If Operations fires a shot off at Madeline upon being lynched or night killed, his shot will miss.
Birkoff
tracker

Seymour Birkoff is Section One's resident genius, whose computer abilities are legendary, and who, as the head of Comm, supervises Section missions in progress. He and Walter are close friends despite their wide difference in age, and even Nikita is especially fond of him. He was born and raised inside Section 1 and has never known any other kind of life. Being Section One's savvy tech, he has the ability to track people's activity. During night rounds, he must send me a pm and list the name of the person who he wants to follow. He will be told who that person visited in the night if anyone, but will not be told anything else. (see special notes on select characters for more information)
Special Notes:
If Madeline tries to interrogate him, she will be told her interrogation techniques failed.
Walter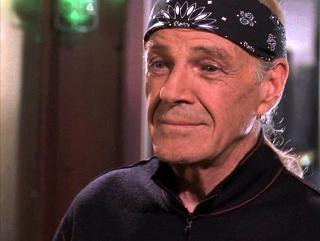 The oldest surviving operative in Section One, Walter is head of Munitions, responsible for creating new and necessary gadgets, tools and weapons for Section operatives to use on various missions. While initially attracted to Nikita upon her arrival into Section, he ultimately becomes her loyal friend and confidante, even participating in a cover-up to hide the ongoing romantic status of Nikita and Michael. He is completely innocent and has no special role assigned.
Mick
Risk-Taker, Snappy Dresser, Neighbor-From-Hell, Weasel Extraordinaire...Mr. Big?.
Mick Schtoppel is just one of his cover names. Within Section 1 he is known as Mick, a Fabulously flashy, worldly informant. But really, Mick is posing as "Mr. Jones", the head of "Center", the organization above Oversight that directs Section 1. But he isn't really Mr. Jones either. In fact, his true identity proves him to be just an actor working for Center as a decoy for the real Mr. Jones. Being Mick Schtoppel, allows him to get close to Section 1, it's operatives and remain anonymous while doing so. He is completely innocent and has no special role.
Gail

Gail is a Section 1 operative, and Berkoff's girlfriend. She works in what is known as "Comm" under Berkoff's command. She is completely innocent and has no role.
Davenport
bodyguard
Davenport is a Section One operative loyal to Operations. Like Michael he is a bodygaurd. In the night rounds he must send me a pm of the person he wishes to protect. If that person is attacked, Davenport will die in their place. Also, he may not protect the same person twice in a row.
O'Brien
Detective
O'Brien started out as a police officer. While investigating a crime in the city, he came across Nikita. Nikita could not allow a police officer to begin investigating her so he was framed for murder like Nikita and was brought into Section and was trained to be an operative. He quickly works his way up and becomes one of Sections best agents. During night rounds he will seek out one person to investigate. He will only be told if that person is innocent. If the person has a role, whether good or bad, he will be told that his investigation turned up nothing.
Petrosian
killer
Petrosian was a deep cover operative placed in Russia. During a mission he was brought back to Section 1 and is learning the ways of Section and how it operates. His secret agenda is to kill Section One operatives and take over the Section. He is blackmailing Quinn and she is helping him gain classified information. Each night he and Quinn discuss whom they want to kill. During night rounds, He must send me the name of one person. If Quinn and Petrosian fail to send me the same name, the attack will be useless.
Special Notes:
If Birkoff tries to track him, he will be told that Petrosian visited no one in the night.
If Madeline tries to interrogate him, she will be told her interrogation techniques failed.
Quinn
killer
Katherine "Kate" Quinn works in Comm under Birkoff, and is markedly different from her superior. Arrogant, sharp-tongued and distrustful of all men, she nevertheless is unflappable in the face of danger and manipulative of her superiors when necessary. She is being blackmailed by Petrosian and is Forced to work alongside him and do his bidding. Quinn Must send me a pm with the name of the person she and Petrosian agreed upon to kill during the night. If Quinn fails to send me the same name as Petrosian by the deadline, there will be no night kill.
Special Notes:
If Madeline tries to interrogate her, she will be told her interrogation techniques failed.
Roles are being handed out now. As you read your role, please copy/paste the list below and remove your name in a reply to this thread.
1. Niki
2. Pete
3. Henry
4. Marshall
5. Kiwi
6. Donna
7. Michael
8. Stacie-cakes
9. Shanna
10. Chris
11. Kyle
12. Jeremy